This Private Virtual Tasting Experience is by appointment, and your tasting kit will ship to arrive within a short time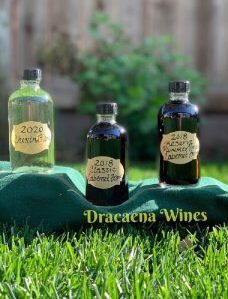 before your scheduled date to ensure the freshest wine possible. Gather your friends and taste together to turn your moments into great memories. The tasting kit will contain three full 4oz pours to enjoy a tasting as well as additional fun tasting materials. This tasting experience will last approximately 45 minutes to one hour and Lori will go into depth about the wines and the stories behind them, as well as walk you through the tasting process. There is a minimum of three (3) virtual packs that must be ordered, but they can ship to different addresses.
Remember, you will need to ship to an address where someone over 21 will be able to sign.
Important Ordering Information: After placing your order for the virtual tasting, someone from Dracaena Wines will contact you to make an appointment with us before your kit is shipped. Depending on delivery state, appointments may need to be made 10 or more days in advance. Please call 805-270-3327 or email Lori with questions or to make your appointment.