Fàilte! Welcome to the next installment of Exploring the Wine Glass. Mike and I are big proponents of you should drink what you like and you are the only one who can taste like you. We advocate the fact that everyone experiences the wine differently, so in these posts we do not discuss our tasting notes.  Instead we include basic information about each of the wineries, and/or a bit about what was happening in our lives while we were enjoying them. With that said, if you are interested in reading our tasting notes and our ratings head on over to Delectable and check us out. We tell it as we taste it over there. Click here to see the chart we use to describe the color or if you want to see the wines themselves as they are poured, visit our YouTube Channel and watch for yourself. As always, since as oenophiles we love to celebrate #WineWednesday, our week runs from one Wednesday to the next. 
Week 1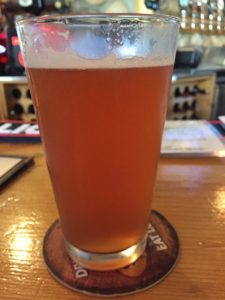 This Wine Wednesday we did double duty [in terms of drinking.] After spending all day house hunting, to no avail, we stopped off at a local craft brewery to cool down with a nice beer.  I had Pomegranate Ale Sequoia Brewing Company. We are lucky that is just over a mile from the apartment, so we can walk it. We can get a little exercise so we deserve that beer! 
Sequoia Brewing Company was started when Scott and Michele Kendall purchased Butterfield Brewing Company in 2000. Butterfield's tradition dates back to 1989, in the tower district, with brewmaster Kevin Cox.  Ultimately, in 2003, the name was changed to Sequoia Brewing Company and in 2005, they opened their second location in Northeast Fresno.
After returning home from the brewery, Mike and I took Vegas for a nice long walk and then we relaxed for a while. For dinner we ordered out at a recommended Thai restaurant.  Let's just say, we will hunt around some more before choosing "our restaurant." We opened a bottle of 2015 Ellipsis Rosé of Pinot Meunier that I had received as a sample [SRP: $25].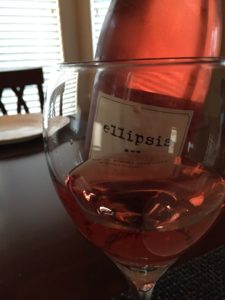 In full disclosure, Mike and I aren't real Rosé fans. We have not quite developed the palate for it yet. I say yet, because just a few years ago, we weren't Pinot Noir fans either and now we have many in our cellar.  It is all about training your palate to appreciate the nuances of each new varietal you introduce to it. With wine, as with many things in life, if you make your decision on your first interaction, you may be missing out on a great relationship. 
In 2008, Jonathan Neisingh, newly graduated from Cal Poly in San Luis Obispo, decided to start Ellipsis Wine Company. His wine passion began while living in Madera, Portugal. He fell in love with the concept of small batches of boutique wines.  Currently, along with consulting winemaker, Rick Davis, Ellipsis has created a name for themselves that is synonymous with vineyard designated world-class wines. Jonathan, along with his wife Devika, operate the small winery themselves with hopes that their two sons, Elyah and Elliot, [ages 5 and 1] will follow in their winemaking footsteps. Wine tasting is available in their red barn by appointment only.
Thursday was spent doing what we love. We drove down to Paso and spent the morning blending our 2014 Cabernet Franc. Before we started work, we decided to let Vegas take a stroll in the vineyard.  I think he loves being a true winery dog! Blending is Chemistry at its finest.  A few liters of wine, a couple of graduated cylinders and our palates. Nothing is finer.  We are once again blending Petite Sirah into our Cabernet Franc, but this year it will be only 10% as opposed to the 15% it was for our 2013. Also, although it is Petite Sirah, the fruit has come from a different vineyard.  This is a different wine than our 2013 and although I might be just a wee bit prejudice I am going to let you in on a secret. This wine rocks!!! 

Another night, another Rosé! It is the season you know. And there is a Rosé Revolution upon us. [Check out Protocol Wine Studio to find out all about this revolution and join us on Tuesday's at 9pm EST to learn about wine!] Tonight's selection was a 2015 Pedroncelli Rosé of Zinfandel. This was a very interesting wine.  The color was off the charts in a cool way. Kind of reminded me of a jolly rancher red candy.  The wine itself had strawberry, pomegranate and the oh so familiar pepper of a zinfandel. But the flavor was not a Zinfandel to me, it had the strawberry and watermelon of a rosé. I paired the wine with chiptole chicken and it really held up nicely. In fact, I enjoyed the wine better with the food than by itself.  
Four generations, nearly 90 years, quietly creating authentic wines at incredibly reasonable prices. 
Pedroncelli Winery began creating Rosé when the John Pedroncelli decided he wanted a lighter red wine. In the mid 1950s using the 30 acres of Zinfandel fruit on their estate, the first Rosé was made. They have continued making it ever since. The winemaking process involves hand harvesting at around 20 Brix and approximately a 50-50 direct contact/saignee method. Sitting on skins for about 24 hours, provides the unique color of this wine. In February 2015, 1800 cases were bottled.[13.9% alcohol.] As with most Rosé they recommend drinking theirs within two years of release. This "Essence of Zinfandel" Rosé has been made for th past 60 years.
Week 2
I took a little break from Rosés and opened a wine that I have enjoyed many vintages of. I remember the first time I tried this wine I fell in love. I think it was the first real summer sipper that I ever enjoyed.  It has a hint of sweetness that makes it perfect for those warm humid nights in New Jersey.  The 2014 Carnival from Pejú Winery is a French Columbard  from North County. 
The love of farming and a passion for wine brought Tony Peju to the Napa Valley. A series of ideas – starting in his birthplace on the Caspian Sea, then France, England and eventually, Los Angeles — created the Peju's Napa Valley winery.  Situated between Highway 29 and the Napa River, the acreage included a 1900-era house and rambling vineyards, some 60 or more years old.
One of my fondest memories of Mike's and my early Napa trips was at Pejú. After purchasing several vintages in a row of Carnival, we were at the winery one day and there was a somewhat large crowd in the tasting room. [this was long before they opened the back tasting room] The person working mentioned that he was going to pour the Carnival. The people looked at him and said ok, while I did a mini version of my happy dance. He immediately recognized my enthusiasm for the wine and asked if I wanted to tell the other customers about it. I am a very shy person so I blushed and vigorously shook my head "No!" [yeah right, anyone who knows me knows that is not the way it went down] I, of course jumped behind the counter grabbed the bottle, poured it for the people and gave a spectacular speech on the wine. I do believe several people purchased the wine although I didn't get a commission. :o)
Tonight I went to what is probably my last "cooking club" with my neighbors. The Club was started a long time ago, when we all moved into the development. At that time we all had just went through the building process and were all extremely frustrated with builder. It was a way for us all to get to know each other a bit better and at the same time to vent about our frustrations. As the years went by, we became friends and it became a way for us to get together on a regular basis to  catch up. 
The idea of the club is simple. We rotate who hosts and then everyone
brings a dish and whatever it is they want to drink. There is always a theme and this one was "favorite dish," so I made a deep dish pizza. This night, it was poker night and I LOVE poker nights! I typically come home a winner, or at least in the top three, but tonight I was a loser. It is tough to play poker against someone who has a 3,5 unsuited stays in and ends up with a straight on the River, but it is always fun.
For wine I brought a Chateau Ste. Michelle Extra Dry Sparkling wine. The winery is located in Washington and the wine is made in the traditional Methode Champenoise. This is one of my favorite sparklings. The price point of $13 makes it an everyday sparkling. The flavors of apple and pears makes it a go-to wine with company.  The wine is a blend of 63% Chardonnay, 19% Pinot Noir, 18% Pinot Gris and it received an 88 in Wine Spectator. 
I am back to the Rosé Revolution and tonight I opened a 2015 Angels and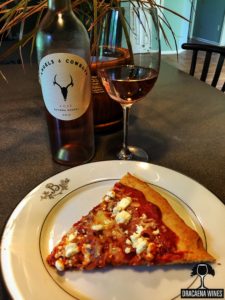 Cowboys. Let me just say wow!  The color was a beautiful mangue and the wine had lovely aromas of lime [unique] and strawberry. It was a deliciously acidic wine that paired very well with my goat cheese and proscuitto pizza.  
These wines are a collaboration between Cannonball Wine Company co-founders, Yoav Gilat and Dennis Hill, and Northern California graphic artist, Michael Schwab. The Angels & Cowboys journey began with a sentimental namesake, a bold, mysterious icon and an appreciation for down to earth wines. These elements drove the vision to create a wine that indulges the lover, the trailblazer and the rulebreaker in all of us.  Angels & Cowboys wines are hand crafted, proprietary blends with intriguing, soulful design.
Hope you have had some great wines and times these past two weeks. Remember, always Pursue Your Passion. We would love for you to leave a comment telling us what your favorite recent wine was.
~Sláinte
DracaenaWines June 22, 2016 Exploring the Wine Glass2014 Vintage, Angels and Cowboys, Cabernet Franc, Ellipsis Winery, Pedroncelli Winery, Peju Winery, Sequoia Brewery 4 Read more >