Fàilte! Welcome to the next installment of Exploring the Wine Glass. Mike and I are big proponents of you should drink what you like and you are the only one who can taste like you. We advocate the fact that everyone experiences the wine differently, so in these posts we do not discuss our tasting notes.  Instead we include basic information about each of the wineries, and/or a bit about what was happening in our lives while we were enjoying them. With that said, if you are interested in reading our tasting notes and our ratings head on over to Delectable and check us out. We tell it as we taste it over there.  Click here to see the chart we use to describe the color or if you want to see the wines themselves as they are poured, visit our YouTube Channel and watch for yourself. As always, since as oenophiles we love to celebrate #WineWednesday, our week runs from one Wednesday to the next. 
Week 1
Happy Christmas Eve Eve!  I can't believe that it is the end of December already. There have been many trips back and forth to California, and I guess logging that many air miles make the time fly by. [haha, see what I did there?] Anyway, tonight we decided we were going big in the wine category.  We chose one of our favorite Paso Robles wineries, Niner. We were so into the wine, neither Mike nor I thought of a meal to have with it. So we ditched the cooking idea and ordered Chinese food. Let me tell you, the 2012 Niner Estates Edna Valley Pinot Noir was perfect with our General Tso chicken and pork fried rice.  We were in the "Wine Zone" with this meal.
Niner is located on 46 West in Paso Robles. Their wine is outstanding
and they are well-known, but I think more people know about their vineyard than the winery itself.  Their one vineyard, Heart Hill Vineyard is probably one of the most photographed vineyards in all of Paso. Niner is a family owned winery and their wines are 100% estate grown. Their story began in West Virginia where Richard Niner spent his career building small businesses. In the early 1990s one of these business ventures brought him to Paso Robles. He fell in love with the area and the people.  After hunting for some time, he purchased his first vineyard, Bootjack Ranch and spent the next ten years building the winery and exquisite tasting room. In 2013, their son Andy took over the day-to-day management of the winery. 
Mike and I had started a Christmas Eve tradition a few yeas ago. We go to a movie and dinner.  It began when the first Hobbit movie was released.  That gave us three years of movies and last year we watched the second Divergent Series, Insurgent. However, this year Allegiant [the third in the Divergent Series] has not yet been released, so we had to pick something else and chose Daddy's Home with Will Farrell and Mark Wahlberg.  There were some very funny moments, but it really wasn't a movie I would tell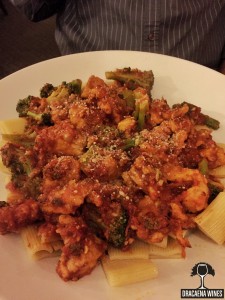 other people they  have to run out and see! After the movie, we went to dinner at our favorite restaurant, Nadie's Touch of Pasta. I, of course, had my rigatoni in vodka sauce with extra peas and Mike had chicken, broccoli and garlic. 
We paired it with a 2012 Kukkula Lothario from Paso Robles. Kukkula (kook-koo-luh), means "the hill, or "high place", in Finnish which is Kevin Jussila's native language. His wine story begins in 1990 when they moved to California and Kevin became enthralled with wine. He already was familiar with farming, so he began to farm his 2 1/2 acres and he fell in love. He made "basement" wine for several years and in 2003, he convinced his wife, Paula, to visit Paso Robles.  There, the discovered the Adelaida community and were enchanted with its beauty.  Kevin then toured an 80 acre walnut orchard on Chimney Rock Road and realized he wouldn't be happy unless he was here pursuing his dream of being in the wine business.  In December of 2004, they moved to the Central Coast and built his dream, which now includes almost fifty acres of grape vines, eight acres of olive trees and 32 acres of walnuts. In 2013, all of his wines are estate grown.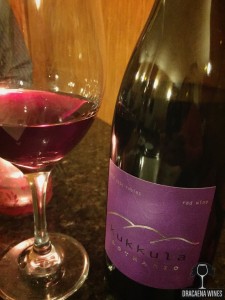 We had the pleasure of tasting with Kevin and Paula when we happened upon his winery.  My jaw dropped at the beauty of the winery and his home that sits above his vineyards.  We had such a pleasant time with them and we learned some Finnish words along the way! Lothario means womanizer, however Kevin liked to make it into a bit more of a positive view and describes it as a seducer or someone who pays great attention to women and this wine is definitely a seducer- whether you are a man or woman. I have discussed this wine in more depth in our latest YouTube episode of "In Dracaena's Glass." 
I hope everyone had a wonderful Christmas yesterday, and if you don't celebrate, hope you had a great day also!   I must have been a very good girl during 2015, because the day started off with lots of new Sparkling wine under the tree. In addition to that, I got to spend the day with my family.  Everyone comes to our house for Christmas dinner.  It's always great to not have to travel, but it is also so much work to have everyone come by you. The day blew past and I don't even know where it went, but it was a nice day. The 70o weather didn't hurt either! 
After recuperating a bit from yesterday, it was around 3pm when we realized we had no idea what to have for dinner. Mike decided to make chicken chili with brown rice and we paired it with an 2011 Eberle Barbera. This is the only Barbera that I think we have ever purchased.  It is not typically a varietal that we enjoy, but this stands out and luckily we have a couple more in the cellar. Gary Eberle, known as the Pioneer of Paso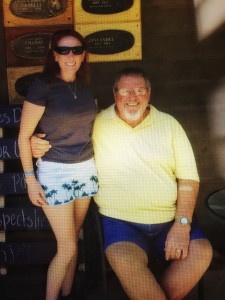 Robles, grew up in Pennsylvania and went to Penn State on a football scholarship. I am not a person who gets all tongue tied when I meet a movie star. I could care less, but when I meet a professional athlete, one that I have looked up to, I become a bumbling fool! And Gary Eberle is one of those people. I wrote a post quite some time ago titled, Jocks in the Wine World, and he is, of course, included. So when Mike and I walked up to Eberle on our last visit and Gary was sitting outside, I spotted him immediately and of course had to take the opportunity to tell him how much I respected him [for both athletics and wine making] and asked if I could please get a picture. He very humbly agreed. 
Week 2
Wow, the final #WineWednesday of 2015. It is amazing how quickly the year has passed. It has been a wonderful year for us. We took a major step in Pursuing our Passion by finally officially releasing our Cabernet Franc. Additionally, we successfully orchestrated the very first Cabernet Franc Day on December 4th. So mark your calendars for next year, because it will be bigger and better!
In our glass this night we chose to take the opportunity to taste the wine
we would be using to participate in January's #winePW. The challenge was "something new." We chose a wine from South Africa.  The 2013 Bayten Sauvignon Blanc from the Constantia ward.  I love participating in these twitter chats because even though this month's theme is something new, I am always experiencing something new with these wonderful wine friends. This month's tweet up will be on January 9th at 11 am EDT. So if you are interested in trying something new for the New Year, jump in on the conversation. You can read all about this great wine in  my post It's Time to Wine Something New starting on January 9, 2016.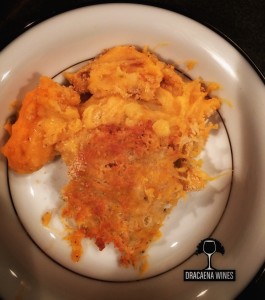 We also kept on theme by pairing this exceptional wine with a new food dish for us.  Mike created a cheesy bacon sweet potato casserole.  It was supposed to be potato cheese balls, but it didn't work out that way. Something about the consistency. (I like to stay out of the kitchen when he is "creating") Anyway whatever he had initially planned, he said didn't work out, but you have to love it when a meal comes together even with the mistakes.  The casserole was delicious and I will make sure he makes it again! 
Happy New Year everyone!  Another year has come and gone. I hope it was filled with wonderful times and I wish you a new year filled with many more joyous  occasions.  One of my favorite Irish Blessings is often used at weddings, but is perfect for this time of year. 
May the saddest day of your future be no worse
Than the happiest day of your past.
Mike and I have had a tradition for many years now. Honestly, I can't remember how long, but every New Year's Eve we get together with our very dear friends John and Karen Troisi. You may know  them as the owners of Jean Edwards Cellars. We have been friends for over 25 years and it is always a fun time when we get together- there is also is always a lot of wine to be had when we get together.  
This NYE, we went to their house and went the simple route.  Karen made a couple of appetizers, I made a salad and we ordered from probably one of the best pizza places in North Jersey- the Reservoir Tavern. It was a wonderful evening and the time flew. Before we knew it, the ball was dropping and it was midnight. A brief synopsis of the wine lineup for the eveing:
2011 Argyle Vintage Brut/ Willamette Valley AVA 
COMPOSITION 40% CHARDONNAY – 60% PINOT NOIR
BRIX AT HARVEST 19.5
ALCOHOL % by Vol. 12.5%
CASES PRODUCED 13,750
2010 Steinbeck The Crash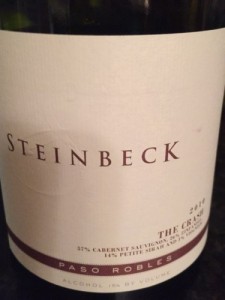 According to their website, the wine is named after a plane crash in which four out of five men survived "The Crash" on the stormy day April 11, 1956. The B-26 landed just 200 yards from the family home. Read the very interesting story behind this wine on Steinbeck's website.  The wine is a blend of Cabernet Sauvignon, Viognier and Petite Sirah. 
2012 Patz & Hall Chenoweth Ranch Pinot Noir 
14.8% alc.
925 cases
$60
This vineyard is farmed exclusively for Patz & Hall who have produced a vineyard-designated Pinot Noir since 2004.
2004 Gemstone Facets 
This was a tough wine to find information about.  It is a second label for Gemstone Winery in Yountville, but it is as if Facets is a mystery wine.  No information or even a mention of it on their website. A blend of 52% Cabernet Sauvignon, 35% Merlot, and 13% Cabernet Franc. Total production among their wines is around 2,000 cases.
2013 Dracaena Wines Cabernet Franc
Yep, we opened one of our own. It was the first time that we sat down for a meal since with John and Karen since our release in October. 
Blend:   85% Cabernet Franc   15% Petite Sirah
Harvest:      November 5, 2013
pH:       3.9                           
Brix:     25.3
TA:       0.4g/ml 
Alcohol: 14.2%  
As our final wine of the Christmas break, we decided to celebrate the New Year with a 2006 Cayuse En Cerise Vineyard Syrah. We poured the wine into our brand new decanter that we received from our dear friends John and Karen Troisi to let it breathe.  Unfortunately, when we sat down to dinner it was painfully obvious that the wine was compromised.  It was so disappointing.  As we brought the glasses up to our noses, I immediately smelled something reminiscent of mold. Mike didn't get that same aroma, but upon tasting, I actually may have shivered. Definitely tainted. But we were not to be defeated! We went to our cellar and chose a second bottle. This time we chose an Andrew Murray 2012 Espérance. This red blend consisted of 60% Grenache 25% Syrah and 15% Mourvèdre. This one didn't disappoint! 
Andrew Murray has two tasting rooms located in Los Olivos and they pride themselves on having an emphasis on Sustainable Farming practices. Andrew's wine story began in the 1980s when he visited France and fell in love with Syrah and Viognier. Upon returning home, he decided he had to chase his love and left for a 15-month Australian internship. He then returned home and pursued a Bachelor's Degree in viticulture and enology at UC Davis. His winemaking philosophy, in his own words, is summarized in three words; three words: Passion – Evolution – Wisdom; the Passion of an unflagging love affair with Rhône varieties; the Evolution of winemaking techniques where even the most subtle nuance is divined from each new vintage; and the Wisdom gained with 20 years of winemaking experience.
Wow, that sure has been a fantastic two weeks of wine, wouldn't you say? I guess when you know you don't have to wake up with an alarm clock, the wine flows.
Hope you have had some great wines and times these past two weeks. Remember, always Pursue Your Passion. We would love for you to leave a comment telling us what your favorite recent wine was.
~Sláinte
DracaenaWines January 6, 2016 Exploring the Wine GlassAndrew Murray, Argyle Winery, Bayten, eberle, Gemstone Winery, Kukkula Winery, Niner Estates, Patz & Hall, Steinbeck Vineyards, The Crash 2 Read more >