Fàilte! Welcome to the next installment of Exploring the Wine Glass. Mike and I are big proponents of you should drink what you like and you are the only one who can taste like you. We advocate the fact that everyone experiences the wine differently, so in these posts we do not discuss our tasting notes.  Instead we include basic information about each of the wineries, and/or a bit about what was happening in our lives while we were enjoying them. With that said, if you are interested in reading our tasting notes and our ratings head on over to Delectable and check us out. We tell it as we taste it over there.  As always, since as oenophiles we love to celebrate #WineWednesday, our week runs from one Wednesday to the next. 
Week 1
Tonight, tonight




The world is full of light




With suns and moons all over the place
Tonight, tonight




The world is wild and bright




Going mad




Shooting sparks into space
Tony and Maria from West Side Story were singing about falling in love, but these are perfect for how I feel tonight. Today was the last day of the 2014-2015 school year, and I am thrilled! It has been a year full of WTFs and we can only hope for better days ahead next year, but right now September is a 9-letter bad word! So in honor of celebrating summer, we opened a Gloria Ferrer Sonoma Brut and just look at those bubbles. Don't they just make you happy?
Gloria Ferrer demands perfection.  They traveled to Champagne to obtain Pinot Noir and Chardonnay clones to bring back to Carneros. While the rest of us were killing the environment with Aqua Net and banging our heads in the 80's, they were the first sparkling house to plant in Carneros. Today, they have 335 acres of vines and hand farm every row and block. Through the process of méthode champenoise they are successful in their mission to "isolate and enhance each and every distinctive flavor coaxed so carefully from the estate vineyards."
Since we are heading out to Paso Robles next week, I had to find time to get our #WinePW meal in.  I thought May went fast, but June really blew by and before I know it, July 11th will be here. That is the day of the twitter chat.  I had to whole weekend meal thing lined up. There is a restaurant that is only about a mile and a half away that has 50 beers on tap. I figured that since all next week, we would be having wine, we could walk there tonight (Friday) and I would make the #WinePW meal on Sunday, since we have a BBQ at a friend's house on Saturday. This was a big deal, since that meant that there would be no pizza for Mike on Sunday. I sold it as the fact that I was making crepes and that could sort of be considered the "French version of thin crusted pizza." He didn't buy my story, but he agreed.  THEN came the weather forecast. Extreme thunderstorms for Friday evening into Saturday and then clear skies on Sunday.  So I modified the game plan. Crepes on Friday, BBQ on Saturday and beer walk on Sunday.  Great game plan, EXCEPT, no rain occurred on Friday and now it is supposed to pour on Sunday.  So we are back to pizza Sunday. [I don't want to drive to the restaurant, since there are so many beers to choose from we may have a grand old-time.]
Crepes are another one of those easy recipes that are a royal pain in the ass.  First you need to make the batter and let it stand in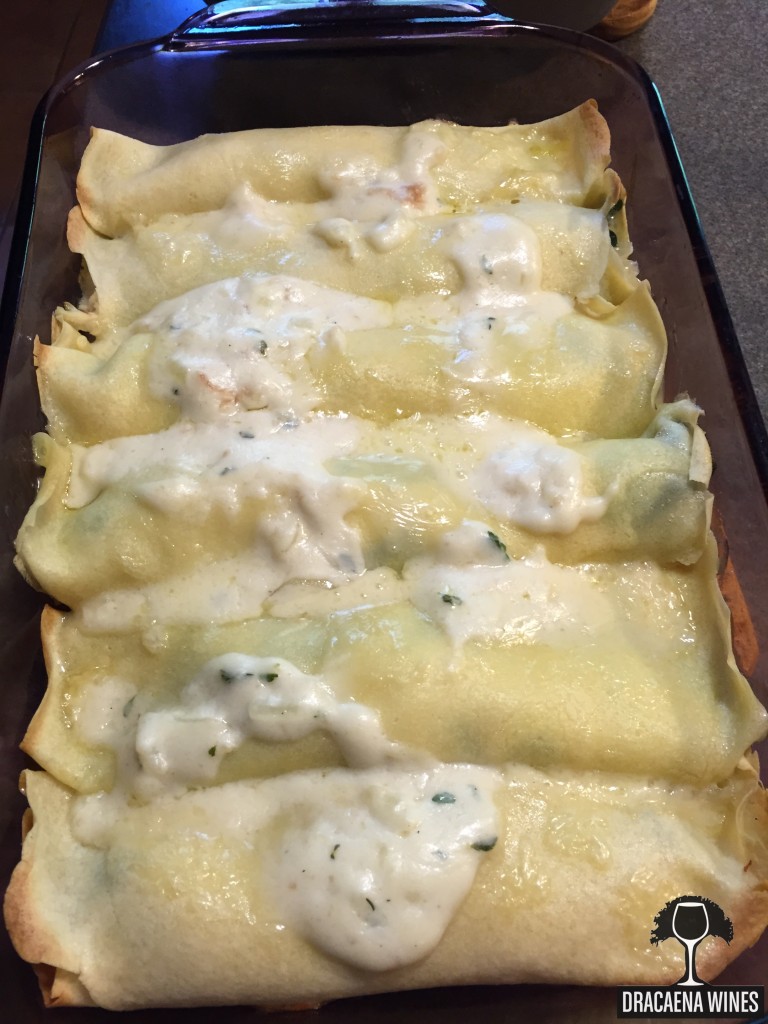 the refrigerator for at least an hour- that is the easy part. Then you make the crepes. Technically easy, but at each crepe taking about 3 minutes, a royal PITA! (pain in the ass) Once the crepes are made, you then make the filling, fill and bake. They turned out pretty dang good if I do say so myself.  Since it is a big process to make them, and it makes about 20 crepes, we invited my mom and dad over to join us. So it was well worth all the effort.  I know how lucky I am that I have such a great relationship with my parents. I love spending time with them.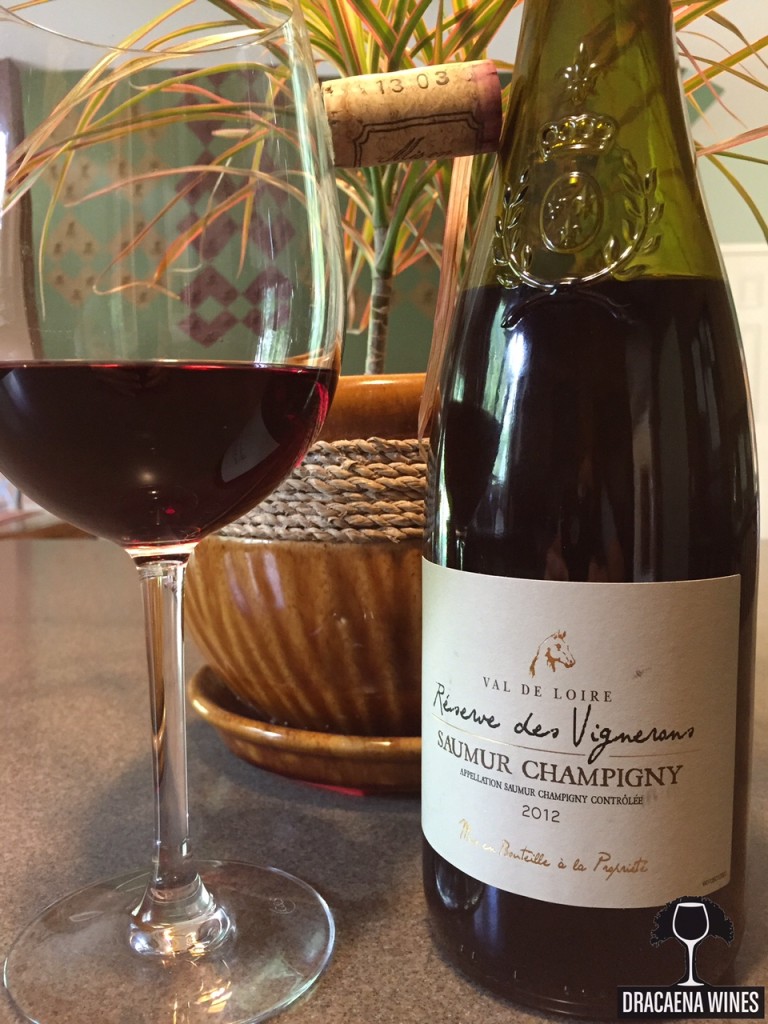 For the wine, we had a 100% Cabernet Franc from Saumur Champigny. This  Reserve des Vignerons was a much lighter Cab Franc than typical for us.  It showed us the difference between old world and new world Cab Franc. Interestingly, tasting notes read:

a deep, dark red wine, packed with blackberry fruit and showing a rustic, funky edge. Surprisingly hearty, this Loire Valley red has a solid backbone of tannins and stands up well to grilled or roasted meats.
although we may sort of agree with the rustic, funky edge, the rest of those notes we were questioning where it came from.  But this goes to prove our thoughts on wine tasting. As I say in every Exploring the Wine Glass intro: everyone experiences the wine differently, so drink what you like because you are the only person who can taste the way you do. 
Week 2
This week is going to be a little different.  We are in Paso Robles for the week.  We are spending some time working and lining up things so bottling goes smoothly in August (that will be a separate post.)  However, you know we are not in Paso and not wine tasting.  For this, I'm going to go with the old adage, "A picture is worth a thousand words!" Paso Robles is home to many beautiful wineries and exceptional wines. I'll let the video speak for me. I hope you enjoy! 

Hope you have had some great wines and times these past two weeks. Remember, always Pursue Your Passion. We would love for you to leave a comment telling us what your favorite recent wine was.
~Sláinte