Fàilte! Welcome to the next installment of Exploring the Wine Glass. Mike and I are big proponents of you should drink what you like and you are the only one who can taste like you. We advocate the fact that everyone experiences the wine differently, so in these posts we do not discuss our tasting notes.  Instead we include basic information about each of the wineries, and/or a bit about what was happening in our lives while we were enjoying them. With that said, if you are interested in reading our tasting notes and our ratings head on over to Delectable and check us out @Dracaenawines. We tell it as we taste it over there.  As always, since as oenophiles we love to celebrate #WineWednesday, our week runs from one Wednesday to the next. 
Week 1
Happy Wine Wednesday everyone.  I am having trouble believing that it is almost May already.  In fact, when this posts, it will be mid May! I know this will get a lot of people upset, but I can not wait until June 24th! The last day of school.  I need to get my bu out of Jersey and back in CA. We will be bottling and enjoying a vacation and it can not come fast enough.  For dinner tonight, I have to say I'm a tad embarrassed, but we had pizza.  That is not what embarrasses me, it's the fact that we ordered from Domino's. (no longer Domino's Pizza)  It has such a stereotype, but we actually like it. It isn't phenomenal pizza, but it is tasty and so easy to pick up since they are right around the corner.  We paired it with a 2012 La Posta Pizzella Malbec.  
We had our two typical pies. Mike likes banana peppers and crumbled pizza while I'm all about the Hawaiian pie – bacon and pineapple.  I have a special connection to this wine, since the growers are actually Physical Education teachers. They, along with their three children, tend the 10-hectare vineyard.  The ranch in Altamira (La Consulta) where the vineyard is located is named Finca Coquena after the god and protector of goats, sheep, and llamas in the Andes mountains. (how cool is that?) In addition to the Pizzella Vineyard, La Posta has the Angel Paulucci Vineyard,another Malbec, and the Estela Armando Vineyard which produces a Bonarda.
Today was another Happy Hour with my girlfriends.  We actually decided a few years ago that these little get together should have a name of its own, so we decided to call it the Drinking Club, DC for short. Tonight's DC Meeting was at the Grape Lounge. A little place in a nearby town.  It was a cute place, but I don't know how it survives, since it was happy hour, and we were the ONLY people there – for two hours, we were their only customers. But hey, it made it easy for us to talk and have a good time.  Tonight's discussion centered mostly around Jeremy Renner.  He was on Jimmy Fallon the other night and sang a hysterical song about the fact that he has super powers too. (he is Hawkeye from the Avengers)  I was completely shocked when Mike and I watched the first movie to see him, because as a super hero, let me just say "YUM!" but when we saw Jimmy Fallon live, he was a guest and I must admit, I had no interest.  It just goes to show what a sleeveless shirt, a bow and arrow and a super power can do for your image. Seriously, compare these two pictures: Ladies, which one would you prefer?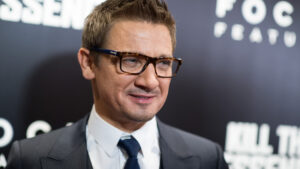 Well, enough of that, and onto the wine.  Just Grapes had "Nameless" wines for happy hour, and a minimal list of wines for a discounted price. With not too much to choose from, I decided to support Paso Robles.  I chose a 2012 Old Vine Zin 91.  This fruit is sourced from old vine zinfandel grapes located in our Central Coast region. Approximately 75% of the yield is obtained from the Paso Robles AVA, while the balance is cultivated in Mendocino AVA.  It is actually an Opici Wine, which is an importer and producer with a portfolio of over 50 brands from the United States, Italy, Spain, France, Chile, Argentina, and Hungary.  I am not sure what the bottle goes for, but I am pretty sure Just Grapes is well over the typical markup, since this wine was $12.50 for the glass.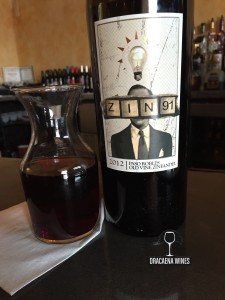 Happy Friday all! It was a beautiful Spring day today and I couldn't wait for work and volleyball to be over so I could get home and enjoy a relaxing evening.  Tonight was a sort of special night. Not in any relationship way, but it marked a new first for Mike and me.  Michelle Williams from the amazing blog RockinRedBlog, introduced me to a group called #WinePW (Wine Pairing Weekend) and I decided to participate this month.  So as to not to include the entire blog in this post I will be brief.  The members decide on a meal and a wine pairing that matches a predetermined theme. May's theme was "South of the Border." We paired chicken and lime soup and mexican cornbread with a 2012 Seghesio Family Sonoma County Zinfandel.  You can read all about the food and wine in my Mexican Musings post.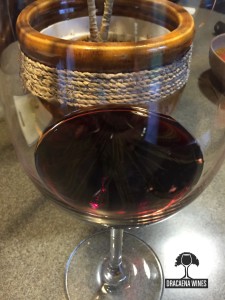 Today was a beautiful day, at least for most of it. We woke up and decided it was a good day to start working on the yard. Mike and I cleaned up the yard,and while Mike mowed the lawn I did some final repairs on the waterfall.  Of all the design features I made in our yard, this is the one I absolutely love the most.  It is actually the second one we built.  The first one was more like a babbling brook.  It was very pretty to look at but did not make a lot of noise and after the second year, it had a leak that we could never find.  So after two more years of constantly filling the stream, we decided to rip it apart and start over.  So I designed more of a waterfall than a brook.  And my motto is go big or go home, so it has three falls and I can't even tell you how many rocks, but after our blood, sweat and tears of a few weekends, I have my wonderful waterfall.  Every winter the deer and the weather wreak havoc on the stones so it is my first Spring job to get the falls going again. It is a triumphant day when I get to turn it on for the first time.  Anyway, we invited my parents over for dinner. We figured we could sit outside and enjoy the sounds of nature, but at about 3pm the sun went in an it became pretty darn cold.  So much for that thought.  Dinner was good, but it was inside.We had another Pine Ridge Viognier/Chenin Blanc. If you have been following this blog, you know this is a common wine for us.  It is a great sipping wine on a nice Spring day. We paired it with one of Mike's best meals in his repoitre, pulled pork.  It was delicious and a great meal after a long day of working in the yard. Tending to a yard is tough work, but the benefits are so worth it.  I love sitting outside and just relaxing listening to the sounds. 

Week 2
It's another #WineWednesday boy oh boy did I need wine tonight. It' all stupid stuff, but it all adds up and makes for a "I need a day off."  Today started off with Mike and I waking up to find that Vegas had gotten sick overnight.  The poor little guy didn't wake us, he never wakes us.  We found him downstairs by the door.  How horrible is that.  I feel miserable – I slept through the night, and he was getting sick.  Luckily, Mike was able to work from home to keep an eye on him.  He is still not feeling well, but hopefully tomorrow he will turn around.  In school, nothing major happened, just the same old same old and then I had a volleyball game. What should have taken an hour and a half (one good team one bad team) took almost three.  The good team did not play so well and it was senior day, so there was a 20 minute break in between games. Afterwards, I stopped at the ShopRite to get supplies for Friday's dinner and Mother's Day.  Honestly, there should be a law that all food stores, at least those of the same brand, should arrange the stores the same way.  Today's store was not our typical one and it took me forty minutes to get the stuff.  For the life of me I couldn't find sun dried tomatoes. I asked, they told me either lane 12, 14, or 16? Really?!  Well they were in any of them.  I finally gave up. I will go to my normal store tomorrow and get them- I know exactly where they are.  I came home just in time for #Sonomachat and the Rangers.  Although we yes, we- have you not seen my on the ice?) won the President's Cup, I have to think we are going to lose this series.  Braden Holtby has just been in the zone. Although Henrik Lundqvist is an amazing goalie, and doing a stellar job, Holtby just seems to have the edge.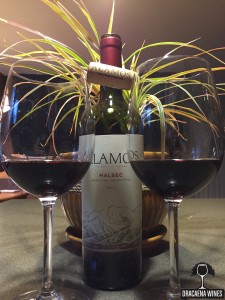 Well, enough of my ranting. Tonight we sat down for the game with a 2013 Alamos Malbec. Alamos is the "Wine of the Andes." According to their website the mountains on their label is in honor of the high altitude, mountain climate of the Mendoza.  The area is known to have intense sunlight during the days that increase the concentration of aromas and flavors while the cool nights which help to balance the acidity and sugars of the fruit.  Alamos was named after the polar trees that line the vineyards of Mendoza.  It is these trees that guard over the vineyards and protect the vines from the mountain winds. 
Another weekend working in the yard.  Mike and I spend so much time making it look nice as we watch our neighbors stare at us like we are insane. Believe it or not we actually like being in the yard and doing all the work.  When we sit down and enjoy the yard, we know it i because we spent the time and sweat making it look that way.  Maybe we are crazy, but it is what we enjoy doing.  Today was #worldmoscatoday.  I have to admit that this did not seem to be the most popular of days for wine lovers.  I have not seen many tweets about it at all and there wasn't a lot of publicity leading up to it. I guess Moscato is an unloved grape varietal. Truthfully, we are not Moscato fans, and I probably would not have participated, but we did have ONE moscato in the cellar, so I figured why not!  We paired the 2013 Markham Vineyards Moscato with a chorizo pasta carbonara and we enjoyed in the yard listening to Mother Nature at her finest. 
Markham's history began when immigrant Jean Laurent came to California in 1852.  He wanted to find gold, but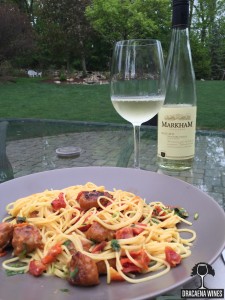 he settled for a winery.  He built his winery in 1874 and built the stone cellar that is the central aspect of Markham Vineyards.  Laurent was an extremely large producer in California. He was known for  shipping bulk wines to the east coasts by train.  When Laurent passed away in 1890, the winery continued to function under different owners. Almost 100 years later, Bruce Markham came to Napa Valley. In addition to the old Laurent winery, he purchased vineyards in Yountville Oak Knoll and Calistoga.  Finally, in 1978, he founded Markham Vineyards. He focused on Cabernet Sauvignon and introduced his Merlot in 1980. 
Hope you have had some great wines and times these past two weeks. Remember, always Pursue Your Passion.  We would love for you to leave a comment telling us what was your favorite recent wine was.
~ Sláinte!
DracaenaWines May 13, 2015 Exploring the Wine Glass#WinePW, Domino's Pizza, LaPosta Pizella, Markham Vineyards, Seghesio Zinfandel, The Avengers, Zin 91 2 Read more >