Fàilte! Welcome to the next installment of Exploring the Wine Glass. Mike and I are big proponents of you should drink what you like and you are the only one who can taste like you. We advocate the fact that everyone experiences the wine differently, so in these posts we do not discuss our tasting notes.  Instead we include basic information about each of the wineries, and/or a bit about what was happening in our lives while we were enjoying them.
Want to know what we think of the wines? Do you want a little insight into our palates? Then head over to Delectable and check us out. We tell it as we taste it over there. Click here to see the chart we use to describe the color. A video of them as they are poured is found at the end of the post. Visit our YouTube Channel to see other wine videos. As always, since as oenophiles we love to celebrate #WineWednesday, our week runs from one Wednesday to the next.
Take this Grenache to the Bank
Grenache is the most widely planted grape in the southern Rhône Valley, and the second most widely planted varietal in the world. Research has shown that Grenache most likely originated in the northern province of Aragon, Spain. From there, it spread throughout Spain and the Mediterranean. By the early 18th century, the varietal expanded into Languedoc and Provence and found its way to California in the 1860s. 
Meeker Winery, whose tasting room is located in the historic bank building in downtown Geyserville, California bought their first vineyard in Dry Creek Valley in 1977. In 1984, they had their inaugural release of Zinfandel and it was a hit from the very beginning. It was the third most awarded Zinfandel in the United States. Since then other vintages have also received high praise. The 1985 vintage was named "Best Buy" by Wine Spectator, the 1986 was a "Spectator Selection," and the 1990 was named one of Wine Spectator's "100 Best Wines in the World"
During the major increase in Sonoma tourism during the 1990s, Meeker had to get creative. Their winery was under 1700 sq. feet and provided no space for a tasting room. They say out of desperation, great things happen. Well, that is exactly what happened with Meeker. They decided to erect  a 40-foot-tall tipi (an authentic Sioux tipi in every respect except size) beside the winery and began using it as a tasting room. (This is one of my fondest memories of a wine tasting) I was sad to see the tipi go, but must admit, they stayed true to their creative genius and I equally love tasting in the bank and apparently I am not alone since The Wall Street Journal named it as one of the most enjoyable wine tasting experiences in all of Napa and Sonoma Counties.
This week has been kind of hectic and I really didn't have much time to plan a meal. So
take out it was. The chinese restaurant around the corner is exceptional. I don't know how they stay in business, since you place an order for a meal and they give away all this other stuff. But it must work for them, since they have been around for as long as I can remember! I ordered my go-to meal of General Tso. One order is about four meals for me! The meal paired exceptionally well with the Grenache. Honestly, in my opinion, Grenache is one of those varieties that is a chameleon. It can go with anything. 
Thank you Mailman
A few weeks ago, we received the news that we once again were awarded a Silver Medal in this year's San Francisco Chronicle Wine Competition.  This came a few days before we received the exciting news that our 2014 Cabernet Franc scored 90 points in Wine Enthusiast! It was a good week. As good as it is to hear the news, it really isn't a reality until you see the plaque or the score in print. And today, our mailman had a special delivery for us. 
History Repeats Itself
Tonight I decided to make homemade macaroni and cheese. I was kind of lazy and didn't do a whole big thing. I have been known to turn it into more of a mexican style dish with bell  peppers and onions, or even salsa within the cheese. Other times, I add bacon and tomato. But tonight was just plain old mac and cheese – and cheese- and cheese! Yes, that is 3x the cheese! Now, I don't think you can ever have too much cheese, but this one, may have been as close to the edge as any dish ever could be. I normally make the dish with half a bag of pasta. (8 oz), but I was making  a whole pound, so I just doubled what I normally use. Sorry, not sorry! That was a LOT of cheese. As soon as I poured the milk in to create the rue, I started doubting my escalation, but it was too late to change my mind so I carried on!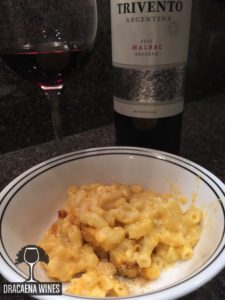 In my glass was a 2015 Trivento Malbec Reserve. I knew I had written about Trivento in the past, so I went through my archives.  What I found was that I must be a creature of habit without even realizing it. Because in my post Exploring the Wine Glass, June 10, 2015, we made homemade mac and cheese with Trivento Malbec. (although it was the Amado Sur) That's a little creepy (today is March 10th) 
In a post I wrote last week, No Matter Your Faith There is a #Wine God For That, I discuss some well known and not so well known gods of wine. In addition to a wine god Trivento also worships the god of wind. EOLO provides the three winds, the Polar, Zonda and Sudestada, that allow for exceptional winegrowing on the Mendozan terroir. Trivento means three winds, cleverly represented by the three squiggly lines in their logo. Their eight vineyards combined have 1,519 hectares (3,754 acres) planted under vine and have four winemakers each responsible for the different levels of wine (Eolo, Golden Reserve, Amado Sur and Reserve.) 
The Wine Road I Drive
As you climb up Mt. Veeder on a long and very winding road, you think you are going to be able to touch the clouds as you approach an impressive building that serves as The Hess Collection Winery. This road is beautiful but as I said is very winding and although Mike typically does all the driving, I get behind the wheel for this road. Our first few visits I needed to have Mike pull over every couple of minutes and in between, I had to put the seat all the way down so I could lie down. This is the only road where I get car sick! I never get sick on any other road, in fact, I hardly ever get nauseous, but this road does me in every time. So after the third (I was a little slow on connecting the dots) I gave driving a try. It's a lot better with me behind the wheel, but no matter what happens on the drive it is so worth it!
With the release of the 2012 vintages from Mount Veeder, The Hess Collection celebrated its 30th vintage. The winery saw extreme damage during the 2014 earthquake. I am happy to hear that the Visitors Center and Art Museum is scheduled to reopen in September. Besides the wine itself being worth the drive, I loved the art museum that Hess had above the tasting room. After tasting, I always would spend time wandering the gallery and appreciating the art. Donald Hess began collecting art in 1966. The gallery focuses on 20 living artists that he remains committed to throughout various stages of their career. Best of all, you can enjoy his passion for free! If you want a more in depth visit, a docent led tour of his private collection is available for $35 including a tasting. 
On my plate was Mexican Chicken Pot Pie. This is a crowd pleasing recipe but I must admit,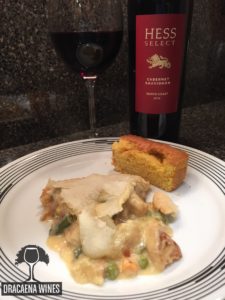 although not difficult to make, it does take some time. It is a basic chicken pot pie, except I use a mixture of fajita and taco seasoning to marinade the chicken in prior to cooking. It adds a little kick to the dish without being overly hot, so it can go with a wide variety of wines. Since I used the Mexican spices, I decided to make cornbread to dip in the sauce of the pie. At .44 cents for a box of Jiffy mix it is not worth making cornbread from scratch, so I always have a spare box on hand. 
Back to the Bank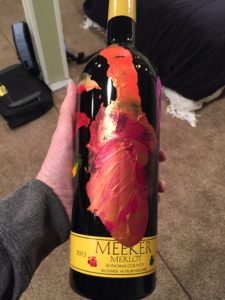 This month was Meeker month on #WineStudio, so I opened another fantastic bottle. This one is one for both the eyes and palate. The 2013 Meeker Vineyard Winemaker's Handprint Merlot comes from the neighboring appellations of Alexander and Dry Creek Valleys.  Each bottle is held in paint-soaked hands one last time by either Winemaker Charlie or  Winemaker Lucas Meeker before they ship it out the door. After being printed, each bottle is lined up to dry in their Handprinting Room for a couple of days, depending on the humidity and temperature. After it's dry, each bottle gets wrapped in tissue paper and re-cased for shipment. Check back in the near future to read more about this process, the wines, and the winery in a future #winestudio blogpost.
That One Time in Beefcamp
Happy St. Patrick's Day! I never enjoyed going out on St. Patrick's Day since it was always beyond crowded and full of way too drunk people. Plus working as a microbiologist for a food company and seeing what FD&C Green No. 3 really is, is more than enough to keep you away for a lifetime. But even before that the concept of green beer was never appealing to me  and don't even get me started on green bagels- That is just wrong!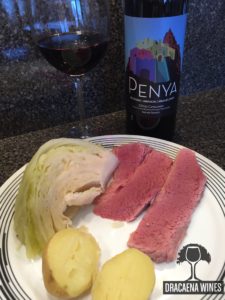 I have a different tradition on St. Patrick's Day. My dad always cooks me corned beef and cabbage. It has been our ritual for as long as I can remember.  It is interesting, considering I really don't like meat. I mean I love bacon, sausage and chorizo, but that's it. Beef is typically not in my vocabulary and NEVER on my table, but for some reason, I like corned beef. (one time a year!) Plus, I do douse it in mustard, so that may be another reason.  
In my glass, I had a Grenache blend from Penya. The winery is located in the small village Cases de Pene in the Roussillon region of Southern France, situated just 30 miles north of the Spain. The winery name is a historical reference to the area, that was ceded to the French in the mid 17th century and is still known as "French Catalonia". Choosing to celebrate their heritage, they chose to use the Catalan spelling of the ancient Château and village Cooperative: "Penya". There are five growers jointly owning the vinyards, while another five grow grapes full time. This winery reminds me of the Green Bay Packers, where the citizens own stock in the team, since every family in the village owns a few acres. There is nearly 1,000 acres under vine and collectively they produce about 150,000 cases per year. This wine is a blend of 52% Grenache, 36% Carignan, 12% Syrah. 
Hope you have had some great wines and times these past two weeks. Remember, always Pursue Your Passion. We would love for you to leave a comment telling us what your favorite recent wine was.
~Sláinte

DracaenaWines March 22, 2017 Exploring the Wine Glass 6 Read more >